Kent Center Programs
How We Can Help
With the support of our exceptional staff each person has an individualized plan that focuses on enriching activities, skill acquisition and full community integration. Skills are developed as groups participate in fully accessible activities and events. A mosaic of opportunities are offered on-site by Kent Center, as well as community hosted activities. Almost all direct support for people with developmental disabilities is provided at no cost to them or their families. Contact us to learn more.
Community Living Support
People with disabilities of all ages should be able to live where they choose, with the people they want, and with the ability to participate fully in their communities. Kent Center offers a variety of affordable and safe community residential options throughout Kent and northern Queen Anne's counties including single family homes and apartments.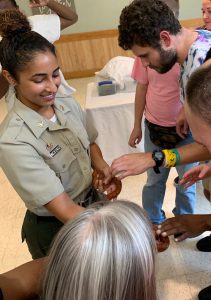 Career Exploration and Employment Services
Individualized support focuses on the right employment opportunity for the right person. Focusing on a person's abilities, goals, and objectives our Job Coaches assist with skill development, job readiness and offer support throughout all employment opportunities. Tailored to meet each person's specific needs, job coaching services may include a mixture of on and off-site training and support.
Personal Support Services
Flexible programming that provides each individual with the choice and the opportunity to control their home and how they live their lives. Personal Support Services allow people to live everyday life in the same manner as their non-disabled peers, to pursue their dreams and experience the joys and challenges of everyday life with great flexibility in scheduling. Through one-to-one support, individuals supported by Kent Center are able to discover passions, access social and recreational opportunities, and enjoy the world around them.
Respite Supports
Through our Respite and Emergency Respite Programs, Kent Center provides temporary, short-term services regardless of where one lives. Respite care through Kent Center creates opportunities for families or primary caregivers to have time away, either for a couple hours or several days, and may be planned or be implemented in a crisis or emergency situation. Respite services are available as outlined in an person's Person-Centered Plan or as a private pay option.
Activities and Community Integration
Whether it is learning to play Pickleball, trying out a new restaurant, attending a sporting event, or visiting a local park, people supported by Kent Center are encouraged to participate in activities all around Kent County and beyond. Opportunities and activities are designed to peak the interest of people we support and the community in which they live.