December 2nd, 2020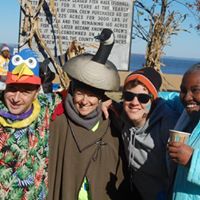 Chestertown, MD – Be there rain, snow, sleet or hail, nothing will stop the amazing flock of people who will be jumping into the Chesapeake Bay during Kent Center's Goose Bump Jump!  This annual fundraiser supports adults who have developmental disabilities to live more independent lives.
Every year we gather at Betterton Beach to raise awareness and attention of Kent Center, and for our 50th Anniversary year, the jump had to go on!  However, it will look a bit different this year.  We encourage our community to mark the 14th Annual Goosebump Jump by submitting a short video or photograph to the Kent Center to be used in a compilation of our supporters.  For those who really want to have a good time- costumes are encouraged!
For the Jump please select a body of water that you plan to jump into- it could be the Bay, the Chester River, a large puddle or your own bathtub!  We want to see our excited supporters still "jumping" for the Kent Center!  Participants who raise $100 in donations will earn a coveted long-sleeved Goosebump Jump t-shirt, as well as five minutes of fame on our Facebook page!
For more information, or to submit a video, please contact Lindsey Buckless at 410-778-7303 or  lbuckless@kentcenter.org